Intensional Camping Weekend
June 16 @ 1:00 pm

-

June 18 @ 6:00 pm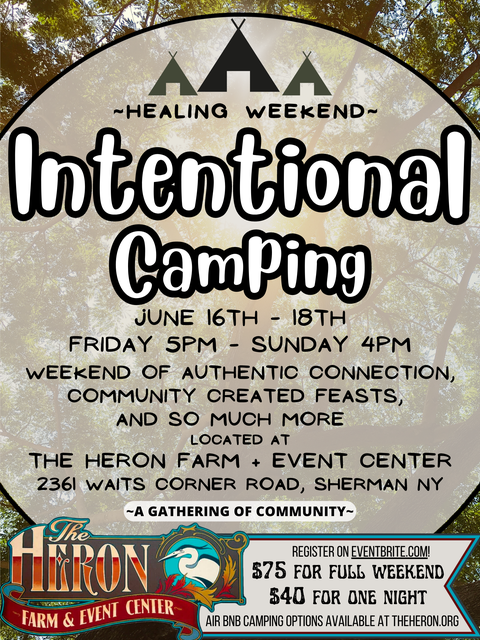 Get ready for a weekend of intentional camping!
Join us Friday June 16 to Sunday June 18th at The Heron for an unforgettable experience!
Our goal:
Create a transformative camping experience that fosters personal growth, deep connections, and a sense of well-being. Embrace nature, engage in mindfulness, and cultivate a supportive community. Leave refreshed, empowered, and inspired.
What to Expect:
Nourishing Connection
Balancing Movement
Facilitated Introspection + Meditation
Community Created Feasts
Group Music Making
Laughs, Love, and MORE!
What to Bring:
Tent, Sleeping bag, Pillows – Air BNB options available at TheHeron.org
Your favorite fresh ingredients to be added to the meals below
An open heart
Water bottle, mug, plate/bowl, and T stupperware
Instruments of any kind
Comfortable clothes for 2 nights, 3 days, layers suggested to adjust for weather needs
Swimwear, towel, sunscreen
Shoes/boots/sandals if you wear them
Personal hygiene items (4 showers available) – towel/robe
Camp chair / yoga mat / blanket / cushion to sit on
ANYTHING that makes you feel good: flow toys, a book, journal, oracle deck, flowers, kite, crystal, tea, candles, essential oil, herb bundle, cool item, photos of pets, anything
Make sure to reserve your spot soon, space is limited. We can't wait to see you there!
This event is a family friendly environment, children, elders, and all of you is welcome!
Related Events