We envision a world where people are nourished by land and community.
Grounded in the land we steward, The Heron's farm and events support community well-being and a deeper connection to nature, the arts, and each other.
People have been gathering at The Heron since the 1960s, when this land was originally opened as a campground by a man named Newt Spinks. There are a few original out buildings that still stand from that time. Newt dug our beautiful pond back then. The Heron has been in our family's hands since the 1970s, when Julie's parents, Warren & Betty Erickson, bought the property. At that time, this place was called Camp Mini Aqua. Before the camping days, this land was part of a working farm, whose brick farmhouse still stands next door. More about that later!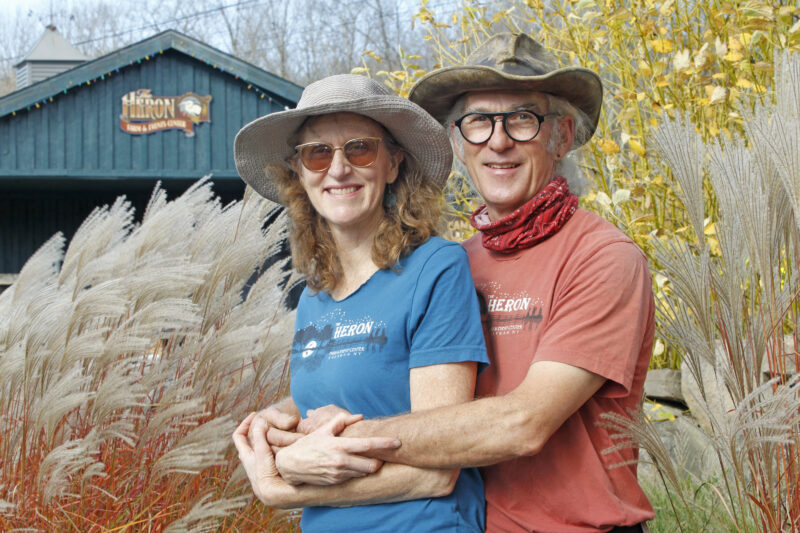 Changes started to happen in 1990 when Julie returned to her family home in Jamestown and asked her folks about the land they had bought in the country. She'd gone to college about the time they bought it, then lived in Colorado and California, gotten married and divorced and had circled back home to start life over again in her hometown. When asked about this place her parents said, "Oh that place, we've been trying to sell it for years". Julie said "Let's go look at it!", and she fell in love immediately. You could say, the rest is history, or more appropriately, her-story.
Once Julie decided to move to the property, it quickly became a family project to clear overgrown brush, get the water system going and renovate the buildings. They had no idea what this place might become. That first year, Julie's family offered to help her build a house, which doubled as storage for Pop's new tractor! Today, you can still find Julie's father, "Pops," immersed in projects on his tractor. He's a regular fixture on The Heron land.
The next chapter started when Julie met David Tidquist, a local music promoter, who was looking for a place to hold a music festival. Together, with more family like Julie's sister Andrea, The Great Blue Heron Music Festival was launched in 1992. The festival grew from 800 attendees to 7000 over the years and brings families together annually around the July 4th holiday for 3 days of music, dance and camaraderie. 
In 2005, Julie married Steve Rockcastle, a long time friend of the festival. With Steve's energy, the farm got started; first with shiitake mushrooms, then with grass-fed beef and chicken. Before joining forces, both Julie and Steve had been organic gardeners, so scaling up food production fit both of their shared values and visions of a happy life.
Running a farm & festival has become a unique way of life! The two enterprises even intertwine to support one another; like when Farmer Steve's grass-fed burgers are served at the music festivals! 
Extended family continues to be an important facet of The Heron community. Throughout the years, Steve's sons, Logan and Skye, have been involved with brainstorming building designs, construction projects and art installations. In 2015, Steve's daughter, Emily, joined the farm and created our vibrant culinary workshop and Farm to Fork luncheon series.
In 2019, Heron supporters acquired the original farmhouse that lies just south of Julie and Steve's current homestead. This property will add another dimension to The Heron land and opens us up to the possibility of hosting larger events and enriching more lives in the future.
2020 has brought a huge shift in operations, as all large events have been postponed around the world, including The Heron's festivals. Collectively, the Heron family felt that reopening for public camping would be one way that we could weather the changing times and keep the spirit of The Heron alive. 
As we look ahead, visions of the future include continuing to make The Heron a unique and captivating place to attend retreats, host gatherings and celebrate events. To bring these visions to fruition, a new community building has been designed to replace the original 1960's bathhouse. This building will be multi-use and the perfect place for weddings, business meetings, and all kinds of moments in between. We are also currently building cabins that will be available to rent throughout the year. These projects will be a huge undertaking for us. Fundraising is still in progress through the Heron Forever Campaign. Forever be part of the Heron by purchasing a personalized brick. Won't you please join us, as we create the next phase together?
Through every twist and turn, the underlying principles of The Heron have been to collaborate and evolve with others, to cultivate community and to share this magical place. Our community grows with each summer season, as families gather to share a fire, enjoy good food and savor the beauty of this place.