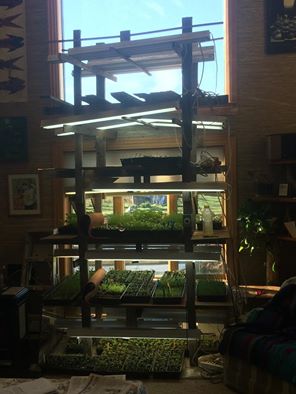 I just got a call that the "no till" seeder that I am renting will be here today. I was just organizing my day as to what to prioritize and tasks to be done. Now to add one more thing to the list.
I have started a light half day grazing schedule for the cows in the Ash woodlot which is a new area for me to graze in the spring. That should get me into end of May before I have to start grazing on my permanent pastures. I still have amendments to put onto the pastures, seeding, fence fixing, transplanting, garden tilling, veggie seed sowing, soil samples to take, greenhouse to cover with new film and the list goes on and on.
I ran out of space in my grow chamber, so the only place to go was up. I added two more levels for newly transplanted seedlings. Not sure how I get that thing out of here after I'm done with it, though. Hmmmm???
Six calves on the ground, four more to go. Seems like the herd is growing by leaps and bounds.
~Farmer Steve