My office is on the second floor looking out huge windows facing south which gives me a great view of the lands outside. I'm not enjoying looking out there this morning though because I know the inevitable is coming that I need to go out and get some work done on the corral project laying heavy on the "to do" list. Snow is covering the ground this morning which always makes for a harder time getting motivated. My farm helper Ryan Hoitink has been under the weather with what I think is probably strept throat and don't expect to see him much this next week. Thanksgiving falls in the middle of the week and I am trying to steal a day before that to go and help Logan on his house project before the Thanksgiving celebration at the Sanford residence. It is told that 50+ people show up for this event so it should prove to be a wild and crazy time. We are anxiously awaiting Emily"s return after being gone for three weeks retrieving her car from the depths of Colorado. She always livens up the energy of the household and brings much depth to daily life.

I really enjoy having the cows in the barn yard area during the winter season. It is the one time that I get to be close enough to them to touch and interact with them. They still take flight when they know I am coming close to them but never know when I walk up behind them and I can put my hand on their rump as I walk by. There are a few cows that have a fairly long fur coat and this time of year it tends to get nice and bushy thick. I've named the other heifer that was born this year. I think it will be Bridget after a friend who has red hair. I decided that I will try to think of all the red heads that I know to name my cows after when they are born. Her Mom is Lucy after Lucille Ball. I ended up feeding the last of thee balage from a farm around the corner that is certified organic but has not had any manure or any other nutrition put on it in a while. The cows have not been overly anxious about eating it but do when that is all I give them. Last night I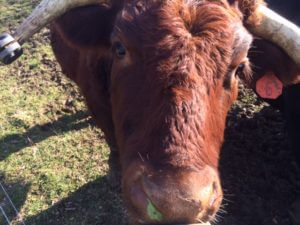 got into the balage that is taken off our two fields that is require of me to do a first cutting on as part of my lease. You would think the cows were getting their last meal or something. They just couldn't get to it fast enough. Julie said that when I unwrapped it at the barn, she could smell its goodness all the way over at the house. Now, that's powerful stuff. By the time I was done with chores, you could see in the hind quarters of the cows, they were full and satisfied. Now that's what I like to see.
Farmer Steve
Leave a Comment
Your feedback is valuable for us. Your email will not be published.